just after the turkmen-uzbek border
bukara
it is a nice little city
with many ancient buildings
surrounded by old traditional houses
near the mosques and madrassas
there is a bazar for tourists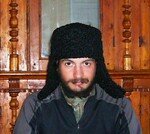 i bought there a chapka in karakul
and two other traditional hats
(karakul is uzbek name for astrakan: the curly fur of baby sheeps
3 of them are used for this hat: i'm really a monster!)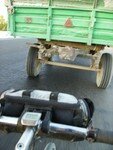 sometimes it was very windy
i got protected of wind behind tractors carrying coton!
coton is grown everywhere in uzbekistan
which is the second world producer after the USA
left: people recolting coton
right: a coton factory with huge stacks of coton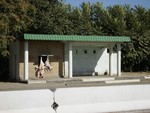 in uzbekistan there are many bus stops along the road
some have shops inside them
this one is a butcher-bus stop!
registan place in samarkand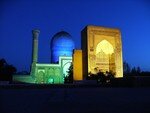 mausoleum of gur emir, amir temur and some others in samarkand ...
taskent, the capital is a big city created in 1938
there are mainly huge sovietic buildings and big banks
many nice parks also but nothing really interesting to do...
i have shared my hotel room with another olivier on bicycle
he's from barcelona, catalunya
and came in uzbekistan by plane with two other friends
to make a bicycle trip to bukara and samarkand
the hotel is very well decorated and very cheap
($8 for a bed in this double room)
but the boss thinks too much about money
and only his son speaks fair english...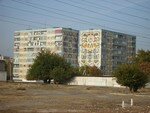 buildings with huge communist paintings
in the suburbs of tashkent

a camp just after angren above the dam of its valley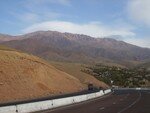 the road to the end of the valley

the road that climbs to the kamchik pass
a touristic place at the end of the fergana valley
actually i didn't took any photo of the fergana valley...
it is mostly a step with som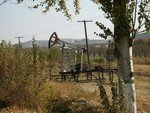 there is petrol extraction near the kyrghiz border

this field is uzbek
that mountains are kyrghiz