5juillet/july 13 aout/august 2007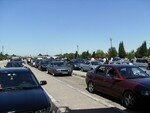 la frontière turque
3 postes de controle coté bulgare, 5 du coté turc!
the Turkish border
3 checkpoints in Bulgaria, 5 in Turkey!
edirne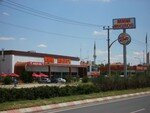 migros! comme en suisse!
j'ai n'en ai pas visité mais il y en a un paquet dans la région d'istambul
migros! like in Switzerland!
i did not visit but there are lots in the istanbul area
difficile de trouver un endroit où camper dans la région: pas de forets, pas meme un arbre!
j'ai du me dissimuler derrière un champ de tournesols
difficult to find a place to camp in the area: no forests, not even a tree!
i had to dissimulate behind a field of sunflowers
la mer!
(de marmara)
the sea!
(of marmara)
arrivée à istambul
arrival in istanbul
la muraille qui protégeait la vieille ville d'istanbul
the city walls that protected the old city of istanbul
l'aqueduct romain d'istambul
istanbul roman aqueduct
vieilles maisons à istambul
old houses in istanbul
la mer de marmara vue depuis istambul
marmara sea seen from istanbul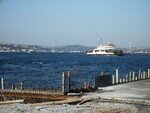 le détroit du bosphore
de l'autre coté: l'asie!
the bosphore strait
on the other side: asia!
la mosquée bleue
the blue mosk
hagia sofia
quelques d'autres vues d'istambul...
some other sights of istanbul...
notre chambre d'hotel à sultanhamet, le quartier touristique d'istambul
our hotel room in sultanhamet, the tourist district of istanbul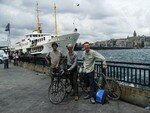 juste avant mon départ vers la rive asiatique d'istanbul
on a rencontré un cyclotouriste suisse allemand de lucerne
lui aussi va aller en asie
just before my departure towards istanbul asiatic bank
we've met a German Swiss touring cyclist from Lucerne
he will also go to Asia
au revoir l'europe!
sur le ferry qui m'emmène à 'harem' dans la partie asiatique d'istambul
good bye europe!
on the ferry taking me to 'harem' in the asiatic part of istambul
la côte après istambul
de jolies petites villes accolées les unes aux autres
et une bonne piste cyclable le long de la route
the coast after istanbul
nice little cities stuck ones to the others
and a good path for bicycles next to the road
bonne jusqu'au moment où j'ai cassé ma roue arrière sur ce rebord
là j'avais vraiment un gros ennui!
good until i broke my back weel on this edge...
then i was really in big trouble!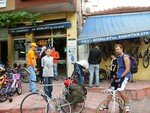 heureusement ce jeune homme en bleu qui faisait du vélo prit ma roue,
trouva un magasin de vélos, la fit réparer et me la rapporta!
il a même obtenu 5 lires de rabais et paya pour moi! (je lui ai rendu son argent, pas d'inquietudes!)
happily this man in blue that was bicycling took my broken weel,
found a bicycle shop, made the weel repaired and bring it back to me!
he even got 5 lira discount and paid for it! (i gave his money back, don't worry!)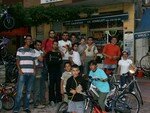 le magasin de cycles de eda à maltepe
(eda est la jeune fille sur la droite)
après avoir changé ma roue je suis allé dans son magasin pour acheter des rayons de rechange,
mais en fait ils étaient de la même taille sur la roue cassée que sur la nouvelle...
alors j'en ai récupéré sur mon ancienne roue (c'étaient les miens en fait!)
comme tout le monde me posait des questions, j'ai dû discuter au moins une heure là-bas!
je suis parti juste avant le coucher du soleil pour trouver un endroit où dormir
eda's bicycle shop in maltepe
(eda is the woman on the right)
after changing my weel i got to her shop to get replacement spokes,
but actually they were the same size on my broken weel and on the new one...
so i took some on my old weel as they were free (they were mine in fact!)
as evrybody asked me questions, i had to discuss for at least one hour there!
i left just before sunset to get a place to sleep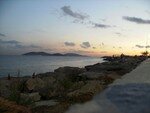 coucher du soleil sur les îles de la mer de marmara
sunset on the islands of marmara sea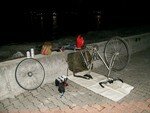 quelques kilomètres après maltepe j'ai crevé sur ma roue arrière!
je l'ai donc démontée et j'ai vu qu'il n'y avait pas de bande pour protéger la chambre à air des rayons...
j'ai pensé que c'était la raison de la crevaison alors j'ai maudit celui qui avait monté cette roue!
mais en fait, c'était une rustine achetée à istambul qui était fautive...
alors j'ai maudit la société chinoise qui l'avait produite et celui qui m'avait vendu cette boite de rustines!
(le magasin shimano d'istambul, je pensais qu'ils vendaient de la bonne qualité pourtant...)
j'ai aussi acheté un porte bagages dans ce magasin
il est vraiment bien: regardez comment je peux retourner mon vélo sans enlever les sacs!
some kilometers away from maltepe i had a flat on the back wheel!
then i opened it and i saw that they were no rubber band to protect the inner tube from the spokes...
i thought that it was the reason of the flat and then cursed the one that mounted that tire!
but actually it was a patch bought in istanbul that was was faulty...
so i cursed the chinese company that made it and the one that sold me that box of patches!
(shimano shop in istanbul... i thought they were selling good staff actually...)
i also bought a luggage rack in this shop
this item is pretty good: see how i can turn my bike without taking off the bags!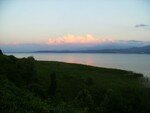 coucher du soleil sur le lac d'adapazari
sunset on the lake of adapazari
le col de bolu:
plus de 10 km à environ 10%
pas si dur que ça en fait...
the pass to bolu:
more than 10 km at about 10%
not so hard actually...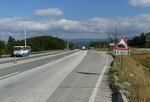 nom de nom!
j'ai grimpé 12 km pour en avoir seulement 4 de descente!
c'est une honte...
bloody hell!
i climbed 12 km to get only 4km down!
it's a shame...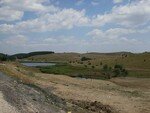 lac après gerede
lake after gerede
entre cerkes et hachihamza
beaucoup de jolis paysages
between cerkes and hachihamza
a lot of nice landscapes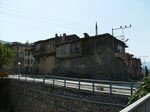 l'ancien village de hachihamza
the old village of hachihamza
rizières entre hachihamza et osmancik
rice fields between hachihamza and osmancik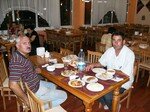 à gümüshacikoy j'ai rencontré ces deux hommes turcs
ils m'ont gentiment invité a dîner dans le restaurant de la station service où j'ai dormi
un très bon repas: j'étais crevé alors ça m'a donné de l'énergie pour le lendemain!
in gümüshacikoy i met these two turkism men
they nicely offered me dinner in the restaurant next to the petrol station i slept in
very nice meal: i was tired this day so it gave me power for the next day!
amasya
une jolie ville ancienne assez touristique
a nice old city quite touristic
coucher de soleil sur la rivière à coté de tasova
sunset on the river next to tasova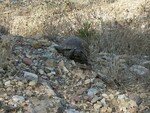 après sucheri j'ai rencontré deux tortues
j'ai transportée la première pour prendre une photo mais ça ne lui a pas plu alors elle m'a pissé dessus!
après elle était fâchée et n'a pas voulu sortir sa tête de sa carapace pour la photo...
j'ai rencontré la seconde le matin suivant et elle m'a laissé prendre une photo d'elle
near susheri i met two turtle
i carried the first to take a photo and this doesn't pleased her so she pissed on me!
after she was upset and didn't want to take her head out of her carapace for the photo...
i met this second one next morning and she let me took a photo of her.
certaines fois les routes étaient assez mauvaises
faites de graviers gros comme le pouce où trop d'asphalte
quand le soleil était haut elles se mettaient à fondre et collaient a mes pneus
horrible!
sometimes the roads were quite bad
they were made of gravels big as the thumb or they got to much asphalt
when the sun was high they were melting and very sticky to my tires!
horrible!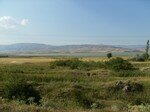 lac près de susheri
lake near susheri
mon premier gros col entre refahiye et erzincan
2160 mètres d'altitude
toujours pas trop dur à part que certaines parties de la route
étaient en construction et très poussiéreuses
my first big mountain pass from refahiye to erzincan
2160 meters high
still not so hard exept that parts of the road
were under construction and very dusty...
la vallée d'erzincan
erzincan's valley
la plus hauet montagne aux environs d'erzincan
la petite tâche blanche au sommet doit être de la neige je pense
the highest mountain near erzincan
the little white spot near the top of it is snow i think
torrent entre erzincan et tercan
torrent between erzincan and tercan
paysage vers tercan
landscape near tercan
la rivière juste avant tercan
the river just before tercan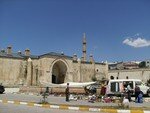 mosquée à tercan
mosk in tercan
la route menant au col entre tercan et askale
très poussiéreuse!
j'ai dû mettre un masque pour éviter la poussière soulevée par les voitures et les camions
qui allaient trop vite sur cette route en construction...
the road to the pass between tercan and askale
very dusty!
i had to put a mask to avoid the heavy dust made buy cars and trucks
going too fast on this road under constuction...
paysage près du col tercan-askale
landscape near the top of the pass tercan-askale
je l'ai enfin passé: un autre col derrière moi!
c'était plus dur cette fois à cause de la poussière
et j'ai ressenti le manque d'oxygène dû à l'altitude
finally i made it: another pass behind me!
it was harder this time because of the dust
and i felt the lack of oxygen due to the altitude
après askale je me suis arrêté dans une station service pour dormir
là j'ai rencontré edip qui travaille a londres durant l'année
c'est expliqué dans le message 'let's go to iran!'
ici je trie ses boulons, écrous, clous, clous tordus...
de gauche à droite: moi, edip et 'otomatik' mahmoud
after askale i stopped in a petrol station to sleep
there i met edip that works in london during the year
it is explained in the message 'let's go to iran!'
here i am sorting his screws, nuts, nails, twisted nails...
from left to right: me, edip and 'otomatik' mahmoud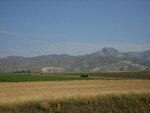 montagnes après askale
mountains after askale
et maintenant de nombreuses photos d'erzurum!
c'est une très vieille ville remplie d'anciennes mosquées,
de madrassas (écoles coraniques) et d'anciens bâtiments
il y a très peu de touristes comparé à istambul
c'est dans les montagnes (1853 m d'altitude)
now many photos of erzurum!
it is a very old city full of old mosques,
madrassas (islamic schools) and ancient buidings
there are very few tourists compared to istanbul
it's in the mountains (altitude: 1853 m)
mosquée
gurcu kami aliaga
mosk
mosquée
laha pasha
mosk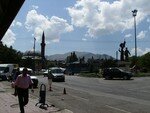 mosquée
narmanli
mosk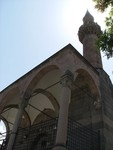 mosquée
ibrahim pasha
mosk
yakutite medresse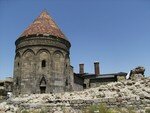 double minaret medresse
maison d'attaturk, le père de la turquie moderne
attaturk house, the father of modern turkey
caravanserai rustem pasha
c'était un lieu de repos pour les caravanes transportant des biens entre l'asie et l'europe
cela montre que je suis bien sur une des routes de la soie
it was a resting place for caravans carring goods between asia and europe
this shows that i am really on one of the silk routes
les trois tombes et une autre tombe
the three tombs and another tomb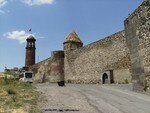 la citadelle et la tour de l'horloge
the citadel and the clock tower
la citadelle et le panorama à coté d'elle
the citadel and the panorama next to it
quelques rues d'erzurum
some streets of erzurum
l'ancienne partie d'erzurum avec ses vieilles maisons
the old part of town with its old houses
après erzurum commença la plus mauvaise partie de la route turque pour moi!
de mauvais cols et de très mauvaise routes...
after erzurum began the worst part of turkey's road for me!
bad mountain passes and very bad roads...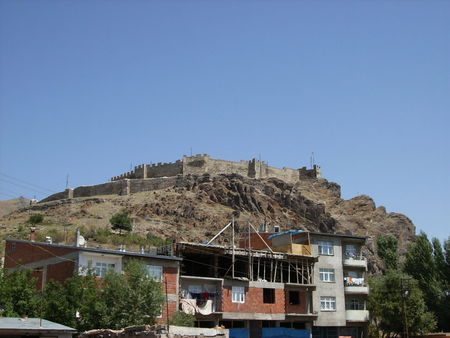 Palsiner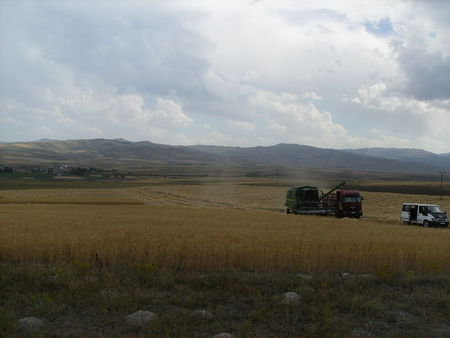 moisson près de köprüköy
harvest near köprüköy
pont après köprüköy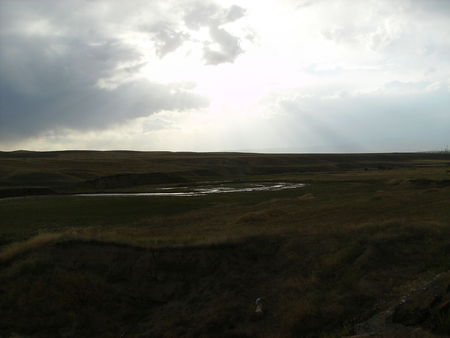 rivière après horasan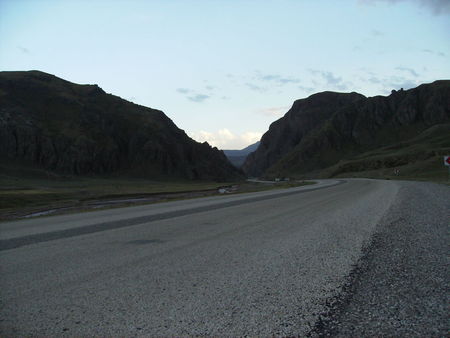 les montagnes après horasan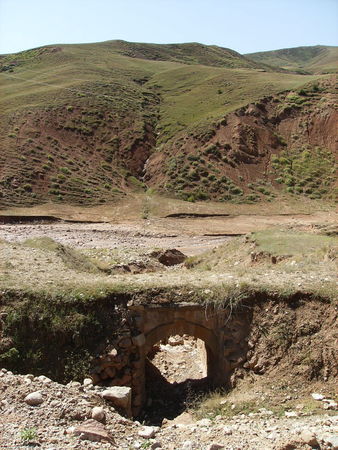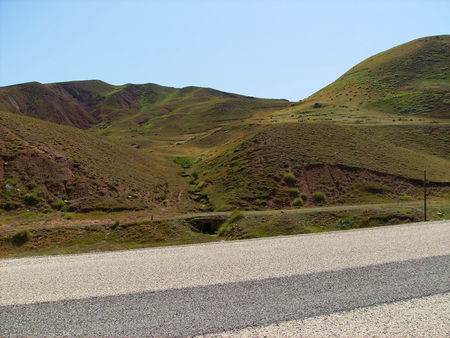 traces de l'ancienne route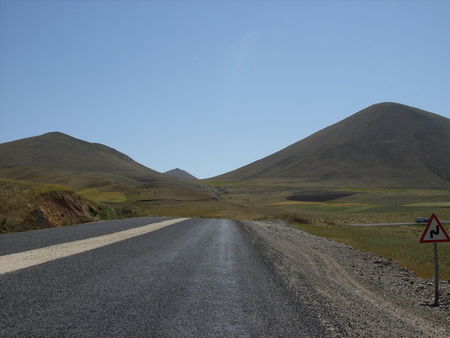 on peut voir l'ancienne route monter au col
la nouvelle le contourne et passe plus haut à droite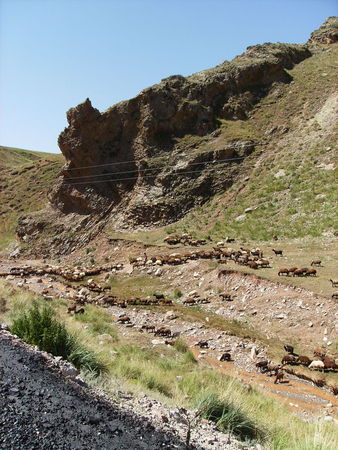 bergers avec leur troupeau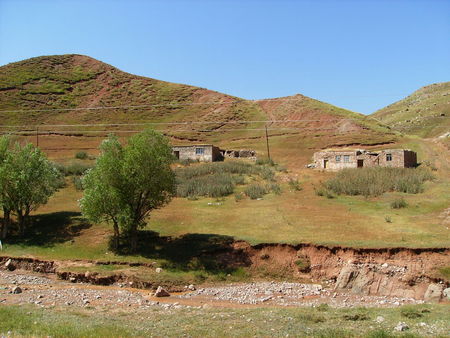 maisons de bergers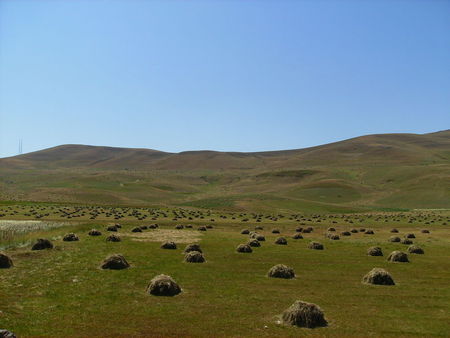 champs moissonés à la main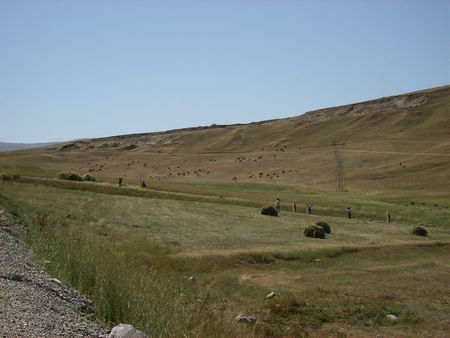 moissonneurs
col de sacdagi

désolé, mais je n'ai pas encore pu mettre les photos ici...
sorry, but i still wasn't able to put the pictures here...
et maintenant je vous présente quelques-uns de mes campemants:
now i show you some of my camps:
dans des stations service (gauche: après bolu, droite: gümüshacikoy)
(bizarrement je ne m'arrête que dans des stations 'petrol ofisi'!)
je ne fais cela que quand il est tard et que je n'ai pas pu trouver d'endroit sûr pour camper
in petrol stations (left: after bolu, right: gümüshacikoy)
(strangely i use to stop only in 'petrol ofisi' stations!)
i do this only when it's late and that i couldn't find a safe place to camp
et de jolis endroits dans la nature
(souvent avec des millions de moustiques affames qui m'attendent!)
de gauche à droite: près de cerkes, osmancik, susheri
en dessous: à mercan avant tercan,
mon meilleur camp avec une rivière juste à coté et un paysage magnifique
and nice places in the countryside
(often with millions of hungry mosquıtos waiting for me!)
from left to right: near cerkes, osmancik, susheri
below: mercan before tercan,
my best spot with a river just near and a wonderful landscape