30 juin/june 6 juillet/july 2007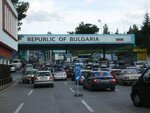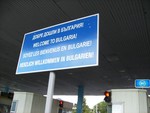 la frontiere bulgare
the bulgarian border

les restes du rideau de fer entre yougoslavie et hongrie
the remains of the iron curtain between yougoslavia and bulgaria
istanbul: 615km!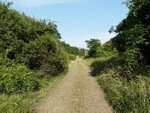 ancienne route pavée menant à la frontière
old paved road leading to the border
inscriptions géantes sur le flanc de la montagne
giant inscriptions on the mountainside
coucher de soleil près de slivnica
sunset near slivnica
sofia: différents batiments...
sofia: some buildings...
...et la société de consommation déjà bien présente...
... and the consumer society already quite present...
du gin savoyard? ha bon?
gin from savoy? huh?
kalin chinovski et ses collègues
ils m'ont aidé à réparer mon vélo
kalin chinovski and his colleagues
they helped me to repair my bicycle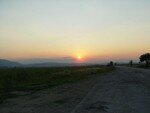 coucher de soleil sur ithiman
sunset on ithiman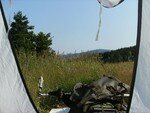 vue depuis l'entrée de ma tente à mirovo
the view from the entrance of my tent in mirovo
la route et l'autouroute à côté d'ithiman vues depuis mon campement au dessus de mirovo
the road and the hıghway next to ithiman seen from my camping above mirovo
maisons en torchis à momina klisura
cob houses in momina klisura
stands vendant du papier toilette le long de la route à belovo
(il y a une fabrique de papier dans cette ville)
stands selling toilet paper along the road in belovo
(there is a paper factory in this city)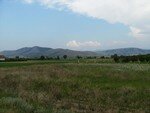 montagnes après plovdiv
mountains after plovdiv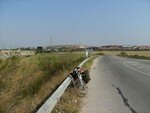 usines désafectées, il y en a pas mal en bulgarie
old factories, there are many in bulgaria
pont de l'autoroute bulgarie-turquie en construction à harmanli
bridge of the highway Bulgaria-Turkey in construction near harmanli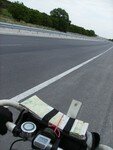 44km/h sur l'autoroute en construction de harmanli à svilengrad!
44km per hour on the highway in contruction from harmanli to svilengrad!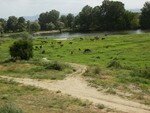 chevaux...
horses...
magasin de vélos à svilengrad
j'ai changé mon guidon qui allait casser et acheté quelques pièces là-bas
à droite, une lampe de frein pour vélo
(la première que j'aie jamais vue, mais bon: je ne sors pas beaucoup de chez moi :P)
bicycles shop in svilengrad
i've changed my handlebar which was going to break and bought some parts there
on the right, a brake lamp for bicycle
(the first i ever saw, but i do not go outside of my home often :P)
dernier paysage bulgare avant la frontière turque
last bulgarian landscape before the turkish border