01 mai 2007
ce blog n'est pas fini et ne le sera sans doute jamais.
je suis en train de monter un nouveau site où il y a déjà presque toutes mes photos:

cyclolivier.jimdo.com

il y a aussi mon voyage d'australie occidentale jusqu'en malaisie via timor leste,
indonésie et singapour.

allez y jeter un oeil!
02 mai 2007
comme je recherchais des informations pour mon prochain voyage en amérique,
j'ai trouvé ceci sur le site d'Alastair Humpreys,
qui a fait le tour du monde a vélo.
as i was looking for informations for my next trip in america,
i found this on the site of Alastair Humpreys,
who did a trip around the world on bicycle.
http://www.alastairhumphreys.com/

o Il n'y a qu'une règle: le gars qui s'entraine le plus gagne. - Floyd Landis
o There's only one rule: the guy who trains the hardest wins. - Floyd Landis

o Rien n'est particulièrement difficile si vous le divisez en petites taches. - Henry Ford
o Nothing is particularly hard if you divide it into small jobs. - Henry Ford

o Quoi que vous fassiez, ou rêviez de faire, commencez-le. Goethe
o Whatever you do, or dream you can, begin it. - Goethe

o Voyez, si vous aviez une chance, une opportunité, de saisir tout ce que vous avez toujours désiré, la prendriez-vous ou la laisseriez-vous juste filer? - EMINEM
o Look, if you had one shot, one opportunity, to seize everything you ever wanted, Would you capture it or just let it slip? - EMINEM

o Seuls ceux qui risquent aller trop loin peuvent probablement trouver jusque où l'on peut aller. - T.S. Eliot
o Only those who risk going too far can possibly find out how far one can go. - T.S. Eliot

o Nos plus grands combats sont avec notre propre esprit. - James Frank
o Our greatest battles are with our own mind. - James Frank

o Tout est dans la tête. C'est là que tout commence. Savoir ce que vous voulez est le premier pas pour l'avoir. - Mae West
o Everything is in the mind. That's where it all starts. Knowing what you want is the first step toward getting it. - Mae West

o Il est mieux de vivre un an comme un tigre que cent ans comme un mouton. - Proverbe Bouddhiste
o It is better to live one year as a tiger than one hundred years as a sheep. - Buddhist saying

o Le plus grand voyage commence avec un simple pas. - Lao Tsu
o The longest journey starts with a single step. - Lao Tze

o Dans des années, vous serez plus déçu par les choses que vous n'avez pas accomplies que par celles que vous avez faites. - Mark Twain
o Years from now, you will be more disappointed by the things that you didn't do than by the ones you did do. - Mark Twain

o Je ne sais pas si je peux faire ça. De même, je ne sais pas si je ne peux pas le faire. - Ffyona Campbell
o I don't know if I can do this. Then again, I don't know that I can't do it. - Ffyona Campbell

o Si vous pensez que vous en êtes incapable, vous en êtes incapable. Si vous pensez que vous en êtes capable, vous en êtes capable.
o If think you can't, you can't. If think you can, you can.

o C'est votre vie, et elle se termine de minute en minute. - Fight Club
o This is your life, and it's ending one minute at a time. - Fight Club

o Nous avons tous des rêves. Mais de manière a faire devenir les rêves des réalités, cela demande un horrible paquet de détermination, de dévouement, d'autodiscipline et d'effort. - Jesse Owens
o We all have dreams. But in order to make dreams come into reality, it takes an awful lot of determination, dedication, self-discipline, and effort. - Jesse Owens

o Rater ne fais pas de vous un raté. Abandonner et refuser de réessayer si! - Richard Exely
o Failing doesn't make you a failure. Giving up and refusing to try again does! - Richard Exely

o Le voyage de la Vie n'est pas d'arriver dans la tombe sans risque dans un corps bien préservé, mais plutôt de déraper de travers, complètement sur les dents, criant: "Ha la vache... Quel pied!"
o Life's journey is not to arrive at the grave safely in a well preserved body, but rather to skid in sideways, totally worn out, shouting: "Holy Cow.. What a ride!"

o Pour être un champion, combattez un round de plus. - James Corbett
o To be a champion, fight one more round. - James Corbett

o La vie est ce qui arrive pendant que vous êtes occupé à faire d'autres projets. - John Lennon
o Life is what happens while you're busy making other plans. - John Lennon

o Mieux vaut être un peu sur-audacieux que sur-précautionneux. -Apsley Cherry Garrard
o It is better to be a little over-bold than a little over-cautious. - Apsley Cherry Garrard

o Ce qui ne vous tue pas vous rend plus fort. - slogan pour la bière Stella égyptienne
o That which does not kill us, makes us stronger - slogan for Egyptian Stella beer

o La vie est trop courte pour des ambitions de seconde classe. - Sir Ranulph Fiennes
o Life is too short for second-class ambitions. - Sir Ranulph Fiennes

o Je n'ai jamais vu de monument érigé pour un pessimiste. - Paul Harvey
o I've never seen a monument erected to a pessimist. - Paul Harvey

o La douleur est temporaire. L'abandon est éternel. - Lance Armstrong
o Pain is temporary. Quitting is forever. - Lance Armstrong

o Il peut sembler à la fois déplaisant et quelque peu risqué de changer votre monde. Mais peut-être est il encore plus risqué de ne rien faire. Encore plus risqué de ne pas essayer de découvrir combien la vie peu être plaisante, aussi bien pour vous que pour ceux qui vous sont chers. Ce que vous regretterez dans le futur seront les chances que vous n'avez pas saisies, l'initiative que vous n'avez pas eue, ce que vous n'avez pas accompli.
Si vous dites que c'est impossible et que je dis que c'est possible, nous avons sans doute tous les deux raison. - Erling Kagge
o It can feel both unpleasant and somewhat risky to change your own world. But perhaps it's even more risky to do nothing. Even more risky not to try to discover how good life can be, both for yourself and for those you care about. What you will regret in times to come are the chances you didn't take, the initiative you didn't show, what you didn't do.
If you say it's impossible and I say it's possible, we're probably both right. - Erling Kagge
...

que ces paroles de sagesse vous donnent la force de faire ce que vous désirez.
ne gaspillez pas votre temps, la vie est trop courte pour cela!
shall these words of wisdom give you the strenght to do what you want.
don't waste your time, life is too short for this!
07 mai 2007
voici le trajet que j'ai effectué pour rejoindre la thaïlande à vélo.
here is the way i took to reach thailand by bicycle.
FRANCE: Gaillard, Bonneville, Cluses, Sallanches, Passy, Servoz, Vaudagne, les Houches, Chamonix.
ITALIE: la Palud, Courmayeur, Aoste, Saint Vincent, Ivrea, San Germano Vercellese, Novara, Milano, Verona, Vincenza, Treviso, Ponte di Piave, Latisana, Cervignano, Gorizia.
SLOVENIE: Nova Gorica, Podnanos, Ajdovscina, Planina, Logatec, Vrhnika, Ljubljana, Skofljica, Grosuplje, Ivancna Gorica, Trebnje, Mirna Pec, Novo Mesto, Brezice, Obrezje, petite visite en croatie... puis retour a (little visit in croatia... then return to) Vrhnika, Ljubljana, Litija, Rimske Toplice, Lasko, Celje, Slovenske Konjice, Slovenska Bistrica, Ptuj, Ljutomer, Lendava, Dolga Vas.
HONGRIE: Redics, Lenti, Kerkateskand, Scecsisziget, Tormafolde, Lenteye, Nagykanizsa, Csurgo, Bercs, Sellye, Harkany, Silkos, Villany, Boly, Mohacs, Homorud, Hercegszanto.
SERBIE: Backi Breg, Bezdan, Sombor, Stapar, Odzaci, Bac Petrovac, Novi Sad, Kac, Sajkas, Titec, Opovo, Pancevo, Kovin, Smederevo, Lipe, Velika Plana, Lapovo, Jagodina, Cuprija, Paracin, Drenovac, Aleksinac, Nis, Bela Palanka, Pirot, Dimitrovgrad, Gradina.
BULGARIE: Dragoman, Slivnica, Sofia, Losen, Novi Han, Ihtiman, Pazardzhik, Plovdiv, Purvomay, Haskovo, Harmanli, Svilengrad.
TURQUIE: Edirne, Babaeski, Lüleburgaz, Çorlu, Silivri, Istambul, Izmit, Adapazari, Hendek, Duzce, Bolu, Cerkes, Ilgaz, Osmancik, Gumuhacikoy, Merziflon, Suluova, Amasya, Tasova, Erbaa, Resadiye, Gusshri, Refahiye, Erzincan, Tercan, Erzurum, Pasincer, Horasan, Eleskirt, Agri, Dogubayazit, Gurbulak.
IRAN: Bazagran, Maku, Qarehziyaeddin, Marand, Soufian, Tabriz, Bostan Abad, Joda Qayeh, Miyaneh, Zanjan, Takestan, Qazvin, Hashtgerd, Karaj, Teheran, Garmsar, Semnan, Damghan, Shahrud, Mayameh, Davarzan, Sabsevar, Neyshabur, Sang Bast, Sarakhs.
TURKMENISTAN: Serakhs, Tedzen, Mary, Turkmenabat, Farap.
OUZBEKISTAN: Alat, Bukara, Navoiy, Samarkand, Jizzakh, Gulliston, Tashkent, Angren, Kokand, Andijon.
KYRGHIZISTAN: Osh, Gul'cha, Sary-Tash.
CHINE: Irkeshtam, Wuqia, Kashgar, Jiashi, Xinhe, Kuqa, Luntai, Korla, Ruoquiang, <jeep> <bus> Xining, Lanzhou <train> Chengdu, Mingshan, Yingjing, Hanyuan, Shimian, Mianning, Dechang, Miyi, Renhe, Yaunamou, Wuding, Kunmíng, Jinning, Yuxi, Eshan, Yuanjiang, Mujiang, Simao, Yangmeng, Mengla, Mohan.
LAOS: Boten, Oudomxay, Pakmong, Luang Prabang, Kasi, Vang Vieng, Phon Hong, Vientiane.
THAILANDE: Nong Khai, Udon Thani, Khon Kaen, Nakhon Ratchasima <bus> Bangkok.
turkey:

iran, turkmenistan: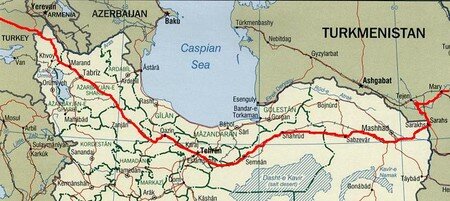 usbekistan, khirghizstan:
voici les cartes de mon voyage, ainsi vous comprendrez mieux les endroits que je visite et le chemin que je prends pour rejoindre Bangkok
(cliquez sur la carte pour la rendre plus grande)
here are the maps of my trip, so you'll understand better the places i visit and the way i'm taking to reach bangkok
(click on the map to make it bigger)
j'ai décidé de partir léger-léger:
i decided to have an "ultra-lite" package:
j'emporte deux "sacs de combat" de l'armée suisse de 35L environ, la toile est étanche, mais pas les coutures... j'ai collé des bandes de tissu étanche a téheran pour remédier a cela.
je les accroche ensemble et les pose de part et d'autre du porte-bagages (ça me fait des super sacoches étanches gratos ;) ).
1er sac: "couchage": tente, matelas auto-gonflable, sac de couchage, sac en soie, sac en thermolite, serviette et un parapluie (toujours agréable, surtout quand il pleut).
total 7,4 kg
2ème sac: "vêtements & toilette": sac de vêtements, sacoche de toilette-pharmacie-divers, vêtements de pluie.
total 7,6 kg
en plus posé sur le porte-bagages je pose un sac de marin étanche de 15L qui contiendra ma
"cuisine": réchaud multi-fuel (marche même au gazoil !), popote, thé, sucre...
total 3,8 kg réchaud plein, plus la bouffe achetée en route.
sous la selle: sacoche de réparation (chalumeau oxhydrique, enclume, marteau, faucille...)
pour 400 grammes.
sur le guidon: sacoche de guidon: remplie de plein de trucs lourds pour que la roue avant colle bien la route (piles, appareil photo, lampes, etc...).
encore 1,8 kg .
ça fait environ 20 kg sans la bouffe ni l'eau... c'est tellement léger que ça me fait un peu peur!
enfin... je pourrais toujours acheter en route ce qu'il me manque, "au kazou".
en plus y'a le vélo: un vieux mercier de 13 kg avec ses équipements.
total du total, avec en plus les vêtements que je porte et la nourriture emportée:
un peu plus de 40 kg.
i take 2 "combat bags" from the swiss army of about 35 liters,the fabric is waterproof, but not the sewings, i've struck bands of waterproof material in teheran to fix this.
i put them together and just put them on each side of my luggage rack (it makes me two free waterproof luggage bags).
1st bag: "sleeping": tent, inflatable mat, silk bag, thermolite bag, towel and umbrella (always pleasant, especially when it rains)
total: 7.4 kg
2nd bag: clothing and toilet": bag of clothes, satchel toilet-pharmacy-various, rainwear
total: 7.6 kg
in addition i'll put on the luggage a sailor's bag of 15 liters witch will contain my
"kitchen": multi-fuel stove (works even with gasoil!), pans, tea, sugar...
total 3.8kg with fuel, plus the food i'll by on the way.

under the saddle: repair kit (oxyhydrogen blowpipe, anvil, hammer, sickle...) for 400 grams.

on the handlebar: handleabr satchel, filled with heavy things so the frond weel will stick to the road (batteries, camera, lamps, etc...).
again 1,8 kg.

this make approximately 20 kg without food nor water... it's so light i fear to forgot something!
anyway it will be possible to buy the things i lack on the road.

in addition there's the bike: an old "mercier" of 13 kgs with its equipements.

total of the total, with in addition the clothes i'll wear and carried food:
little more than 40 kg.

en fait je crois que je vais y aller à pied, c'est pas si lourd à porter...
actually i think i'll go by foot, it's not so heavy...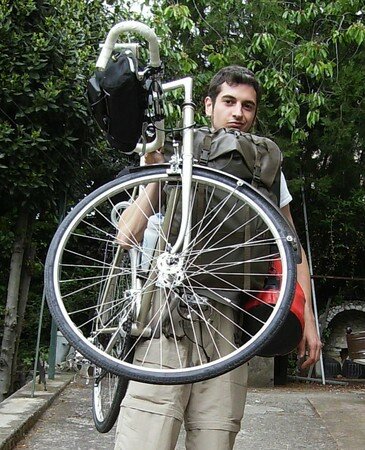 ...j'emporte le vélo "au kazou" !
...i take the bike just in case!
voici une page de liens vers d'autres sites liés au cyclotourisme.
n'hésitez pas à me proposer votre site ou d'autres liens si ils concernent cette activité
here is a link page to other sites concerning bicycle touring.
do not hesitate to propose your site or other links related to this activity to me.
aussi, si un des liens ne fonctionne pas, merci de me le rapporter.
also, if a link doesn't work, thanks to report it.
en français:
http://www.expemag.com/liens-voyageurs-2.html page de liens sur les voyages à vélo, etc...
sebavelo.uniterre.com quelques km à velo dans 3 pays d'asie du sud-est.
sebavelo2.uniterre.com 2 mois à cuba avec un vélo local.
http://lozere.sportnature.free.fr/olivier/presentation.php traversée de l'Eurasie en VTT.
en anglais, in english:
http://sheldonbrown.com toutes les infos techniques sur le vélo, all the technical information on bicycle.
www.crazyguyonabike.com blogs de plein de personnes du monde entier (en français aussi), heaps of blogs from people all over the world.
www.warmshowers.org - trouver un lit chez un cycliste à l'étranger, find a bed with a fellow cyclist.

http://orzic-en.blogspot.com/ de boukara à taskent à vélo, from bukara to taskent by bicycle.
http://whereonearthisjeff.blogspot.com/ blog de jeff james, un australien qui est retourné en australie depuis barcelone à vélo, jeff james' blog, an australian that came back to australia from barcelona on bike.
http://www.alastairhumphreys.com/ tour du monde à vélo, round the world by bike.
http://raderfahrung.de (english & german) tour du monde à vélo, round the world by bike.
http://terminalia.org/ tour du nord-ouest pacifique-rockies canadiennes, de cuba, madagascar et du gondwana à vélo, pacific northwest-canadian rockies, cuba, madagascar and gondwana bicycle tours.
http://www.adventurecycle-touringhandbook.com/ guide sur le cyclotourisme, worldwide cycling route and touring guide.
en chinois, in chinese:
http://tw.myblog.yahoo.com/bike-travel blog de hiram, le taiwanais fou à vélo! hiram's blog, the crazy taiwanese on a bike!
en japonais, in japanese:
http://iquo-ar.net iquo araki, cyclotouriste japonais qui a rejoint l'iquo araki, japanese cyclist